Milton Keynes
Milton Keynes
Creation: The Crafts,Art & Gift Exhibition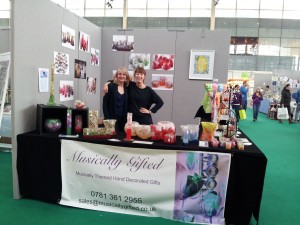 I had my first 3 day craft exhibition in Milton Keynes last weekend which was very enjoyable. A huge thank you to my daughter, Liz Rowland who is an Illustrator based in London, and my mother for their invaluable help and support.
We met so many friendly stall holders and visitors to the Middleton Hall which made the whole experience very enjoyable.
Thank you to Anne Pollard at Davan-Exhibitions for all your hard work in organising the event.
See my musically themed glass pebble hearts on their Creation page. 🙂
---